Our Commitment to you:
Dal-Roof Service has over 30 years of experience in all areas of roof and storm damages, repair and or replacement of Residential properties. Dal-Roof Service maintains the highest standards of workmanship.
Dal-Roof Service representative's will discuss all aspects of your roofing needs, and show you the problem and all potential problem areas.
    Our roofing crews are fully trained, and closely supervised by the company. Dal-Roof Service insists on the careful installation of your roof while taking care of your property and follow up with a complete cleanup of the property and sweeping the yard or grounds for nails with a magnet. Then upon completion, the roof is inspected to ensure the highest quality workmanship. 

   Dal-Roof Service takes pride in our finished product
which is Your Satisfaction.

  We provide Free estimates and have trained roofing consultants to assist with an insurance claim if necessary. Dal-Roof Service makes every attempt to address immediate problems with the lowest cost solution so our customers don't need to spend more than is necessary.
---
Save 20%-40% on your Home Energy Costs,
With a Radiant Barrier Installed.
Residential application over existing deck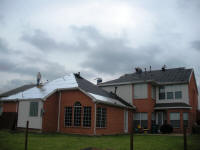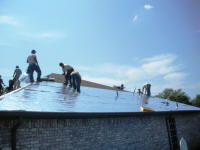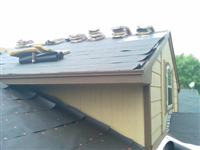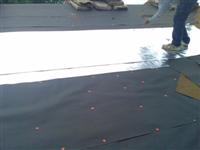 Radiant Barrier Information-
Three modes of Heat Transfer

1. There are three modes of heat transfer: Conduction, Convection, and Radiation (infrared). Of the three, radiation is the primary mode of heat transfer.

2. The use of radiant barriers for energy conservation in commercial and residential buildings goes back to the 1920-1945 time period. A company, the "Infra Corporation" headed by Alexander Swartz, effectively promoted and sold over 60 million sq. ft. of aluminum radiant barrier for use in homes and major business all over America. The Department of Commerce ruled that they were a monopoly and shut the business down. (A10 page listing of commercial and residential sites utilizing the "Infra" product can be provided on request.)

3. In the mid 1950's a PE (Physical Engineer), named Clark E. Beck at Wright Patterson A.F.B. discovered and pioneered the development of radiant barrier technology for use in space by NASA. Radiant Barriers were classified as "Top Secret" in fighting the 800 degree temperature swings in outer space exploration. It worked so well that radiant barriers were inducted into the U.S. Space Agency Hall of Fame in 1996.

4. The Tennessee Valley Authority in 1986 said, "All the radiant barrier configurations yielded a sizeable percentage savings (to 40%) and statistically significant reductions in the summer attic heat transfer compared to the non-radiant barrier case. Also as the ambient temperature increases, the savings increase also."

5. The Arizona State University in 1986 found that "an energy reduction of 40% was achieved during the summer period" with horizontal radiant barrier installation.

6. Florida Solar Energy Center, Laboratory Testing results indicate, "radiant barrier systems are capable of substantially reducing the ceiling heat flow rates in common buildings. For vented attics the heat flow reductions attributable to radiant systems were between 42% and 45% as compared to the standard attic."

7. The United States Department of Energy states that, "when a radiant barrier is correctly installed, it can reduce the heat gains through your ceiling by about 25%."
8. The Oak Ridge National Laboratory showed a 24% energy savings in St. Louis, Missouri and 26% energy savings in Topeka, Kansas, when a radiant barrier was used in addition to R-11 insulation.

9. Austin Texas Green Building Program includes radiant barriers as one of their energy savings options in their Green Building Program of 2001.

10. In California – Energy Directive Title 24 – "The following measures, which were previously options for builders, will now be included in the Title 24's basic prescriptive package. That still leaves builders discretion not to use them, but they'll now have to go a lot further with other energy savings options to compensate. The four are: 1. Duct sealing with third party verifications (see EDU Oct. 1998). 2. RADIANT BARRIERS 3. Spectrally selective glazing. 4. Thermal expansion valves (TXV) for air conditioners (with field verification)."

11. Florida Model Energy Code conclusion, "Radiant barriers are one of the least costly methods of increasing energy efficiency."

RADIANT BARRIERS WORK! They work in article after article (these represent just a few examples, there are many more); and radiant barriers will work for you as well!



---
   Commitment to Customers : Dal-Roof Service is a company committed to its customers and ultimately, customer satisfaction. We use quality products made by reliable manufacturers, and we install those products using highly experienced craftsmen. And we stand behind our work with a 5-year workmanship warranty.
   Modern Techniques: Attention to detail sets us apart from all of our competition. It is the key ingredient of all roofing projects. Our company has the most current knowledge and skills to ensure that you receive the most complete and personalized application you are looking for.
   Our Guarantee: We guarantee every aspect of our workmanship 100%. Repairs are free of charge on any work not meeting your satisfaction, for any reason.